Leading Thoughts for April 20, 2023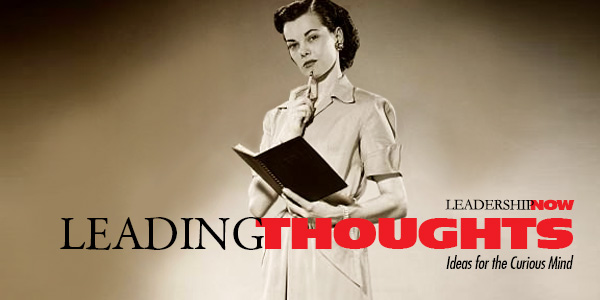 IDEAS shared have the power to expand perspectives, change thinking, and move lives. Here are two ideas for the curious mind to engage with:
I.
As the new CEO of United Airlines, Oscar Munoz on listening:
"Perhaps it wasn't as important that I proved to employees that I had all the answers to every problem. If I simply demonstrated that, before I intended to lead, I wanted to listen and learn from them, perhaps that would be enough to generate goodwill.

If I could just break down this wall of distrust, it would be more important than getting every decision right. The only way to do that was to speak honestly about where I came from, how I was raised, and the values my experiences in life had instilled in me."
Source: Turnaround Time: Uniting an Airline and Its Employees in the Friendly Skies
II.
Bertrand Russell on how to grow old:
"Psychologically there are two dangers to be guarded against in old age. One of these is undue absorption in the past. It does not do to live in memories, in regrets for the good old days, or in sadness about friends who are dead. One's thoughts must be directed to the future, and to things about which there is something to be done. This is not always easy; one's own past is a gradually increasing weight. It is easy to think to oneself that one's emotions used to be more vivid than they are, and one's mind more keen. If this is true, it should be forgotten, and if it is forgotten it will probably not be true.

The other thing to be avoided is clinging to youth in the hope of sucking vigor from its vitality. When your children are grown up they want to live their own lives, and if you continue to be as interested in them as you were when they were young, you are likely to become a burden to them, unless they are unusually callous. I do not mean that one should be without interest in them, but one's interest should be contemplative and, if possible, philanthropic, but not unduly emotional. Animals become indifferent to their young as soon as their young can look after themselves, but human beings, owing to the length of infancy, find this difficult."
Source: Portraits from Memory and Other Essays
* * *
Look for these ideas every Thursday on the Leading Blog. Find more ideas on the LeadingThoughts index.
* * *


Like us on
Instagram
and
Facebook
for additional leadership and personal development ideas.

Posted by Michael McKinney at 07:38 AM

Permalink
| Comments (0)
| This post is about Leading Thoughts