Leading Thoughts for March 30, 2023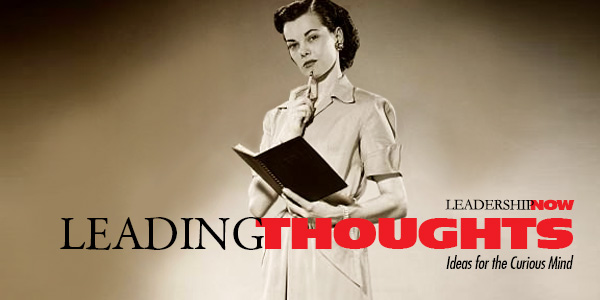 IDEAS shared have the power to expand perspectives, change thinking, and move lives. Here are two ideas for the curious mind to engage with:
I.
Will Marré on making choices based on our outer identity:
"Instead of making authentic choices, we make choices based on the part we're playing. Our lives are dictated, to a large degree, by what we think we must do to remain members in good standing of whatever club we have decided to join."
Source: Save the World and Still Be Home for Dinner
II.
John Baird and John Baird and Ed Sullivan on what could derail you on what could derail you:
"It is crucial for leaders to be very clear about what their values mean in practice. Transparency can be conflated with having no privacy. Honesty can be conflated with oversharing. And inclusion can be conflated with consensus."
Source: Leading with Heart: Five Conversations That Unlock Creativity, Purpose, and Results
* * *
Look for these ideas every Thursday on the Leading Blog. Find more ideas on the LeadingThoughts index.
* * *


Like us on
Instagram
and
Facebook
for additional leadership and personal development ideas.

Posted by Michael McKinney at 06:59 AM

Permalink
| Comments (0)
| This post is about Leading Thoughts