Leading Thoughts for March 23, 2023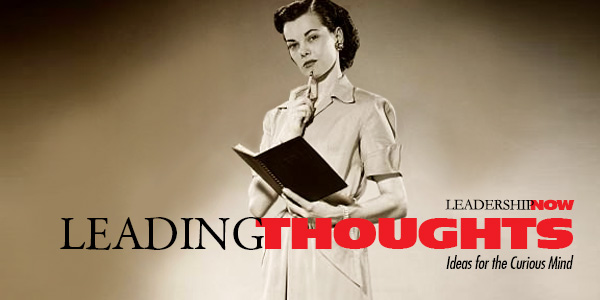 IDEAS shared have the power to expand perspectives, change thinking, and move lives. Here are two ideas for the curious mind to engage with:
I.
Bob Chapman, Chairman and CEO of Barry-Wehmiller, on developing human potential:
"When somebody comes into our organization and agrees to join us, when we invite them into our organization, we become stewards of that life, just as we are when a child comes into our life. A different level of intensity but the same concept. And the way we treat that person who joins our organization will profoundly affect that person's marriage and the way that person raises their children and interacts with our community."
Source: The Lean CEO: Leading the Way to World-Class Excellence
II.
Former president of Florida Hospital's Central Region, Brian Paradis on the hero leader:
"Our society has a case of the hero leader. We admire a strong leader. Even if we fear them, we believe they will get things done. He or she will have a direction and we won't flounder. The responsibility for success rests with them, not us, so we don't have to be accountable. This is seductive but it does not hold up under scrutiny. There is a long list of organizational and personal failure under this brand of leader."
Source: Lead with Imagination
* * *
Look for these ideas every Thursday on the Leading Blog. Find more ideas on the LeadingThoughts index.
* * *


Like us on
Instagram
and
Facebook
for additional leadership and personal development ideas.

Posted by Michael McKinney at 07:19 AM

Permalink
| Comments (0)
| This post is about Leading Thoughts