Leading Thoughts for March 16, 2023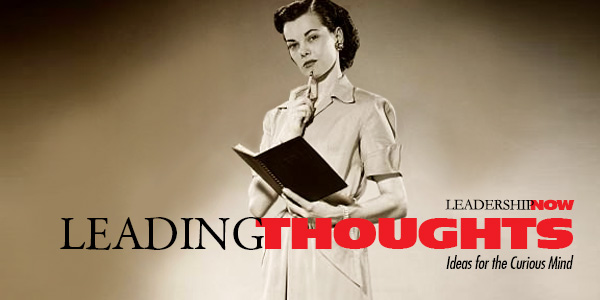 IDEAS shared have the power to expand perspectives, change thinking, and move lives. Here are two ideas for the curious mind to engage with:
I.
Ritch Eich on natural born leaders:
"Too often we hear things such as 'he (or she) is a natural-born leader.' A person may, indeed, have the make-up, temperament, patience, and vision to lead, but without the right attitude, experience, approach, and training, that individual's 'knack' for leadership doesn't translate into real leadership."
Source: Real Leaders Don't Boss: Inspire, Motivate, and Earn Respect from Employees and Watch Your Organization Soar
II.
NFL Offensive tackle Rayfield Wright on leading our youth:
"Parents, teach your children well. Encourage them with your faith and leadership. Remember that you are the windows through which your children see this world. Take notice of yourself and the things that you do in hopes that your example will stir their hearts and souls."
Source: Speech, Don't Be Afraid to Travel the Road Less Traveled, August 5, 2006, NFL Hall of Fame Induction Ceremony
* * *
Look for these ideas every Thursday on the Leading Blog. Find more ideas on the LeadingThoughts index.
* * *


Like us on
Instagram
and
Facebook
for additional leadership and personal development ideas.

Posted by Michael McKinney at 09:12 AM

Permalink
| Comments (0)
| This post is about Leading Thoughts