The Shortcut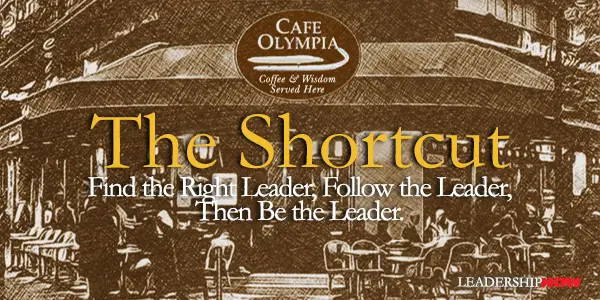 BECOMING teachable and action-oriented clears the way for success. It also sets the stage for The Shortcut by four-time luge Olympian Ruben Gonzalez.
The Shortcut is a business fable full of critical life principles. It is the story of the arrogant and underperforming regional director Johnny Valentine who is on the verge of losing his job. Wanting him to succeed, his boss directs him to the Olympian Café.
The old-world Olympian Café is a place designed around the sharing of timeless wisdom and life-changing conversation. It is here that Johnny meets his mentor, RG. Through a series of conversations, he begins to lay the foundations for success beginning with curiosity ("Always be green and growing.") and advises him to "find the right leader—someone who has done what you want to do and follow the leader right away, get started, and don't quit ("If you have to cross a minefield, it makes sense to follow someone who's already crossed it.")."
Remember, action produces confidence. Inaction strengthens fear. Every time you take a risk, you expand your comfort zone. Always do the thing that scares you most. All the best things in life are on the other side of that fear.
Don't be afraid of not knowing. Johnny asks a successful colleague to help lead him out of his old thinking. Through his visits with RG at the Olympian Café, Johnny meets a series of people that share their journeys and the lessons they learned.
Your dream has to become an obsession, or when difficulties arise, you will quit. RG tells him, "When there's hope in the future, there's power in the present."
There can be miracles if you believe and if you're willing to take massive action. But you have to be willing to go through the struggle if you want to taste the sweet taste of victory. I see people everywhere seeking to live balanced lives. What they don't realize is that the only way to move up to another level, the only way to achieve their dreams, is to get temporarily unbalanced. You have to temporarily give things up to get to the next level. The faster you want to progress, the more unbalanced you need to get.

Success is simple, but it's not easy. You'll constantly be subjected to tests of persistence and courage as you pursue your dream. It's going to take everything you've got. But the good news is you have what it takes. If it truly is your dream and if you persist, the dream will reveal its secrets to you. It will. Find the right leader, follow the leader, then be the leader.
That's the shortcut to success.

* * *


Follow us on
Instagram
and
Twitter
for additional leadership and personal development ideas.
* * *


Posted by Michael McKinney at 06:50 AM

Permalink
| Comments (0)
| This post is about Personal Development