Leading Thoughts for February 9, 2023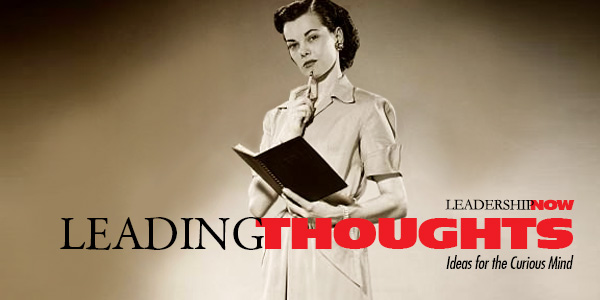 IDEAS shared have the power to expand perspectives, change thinking, and move lives. Here are two ideas for the curious mind to engage with:
I.
Robin Sharma on leadership roles:
"Know your role. Everyone needs to behave like a leader—no matter what they do. Everyone needs to demonstrate leadership traits—regardless of their position. That means everyone needs to take responsibility for getting results that they generate. Everyone needs to do their part to shape culture. Everyone needs to be positive and inspirational. Everyone needs to keep customers happy and protect the brand. Everyone is a leader. But not everyone is the same."
Source: The Greatness Guide: Powerful Secrets for Getting to World Class
II.
Rose Patten on true collaboration:
"Spirited collaboration – enabling and encouraging dissent, with the ultimate objective of arriving at a better outcome. A harmonious group of like minds becomes an echo chamber of agreement. A leader who doesn't allow diverse opinions and ideas for improvement will perform suboptimally. Today's leadership challenges – a more complex and diverse workplace, digitalization, far-reaching stakeholder expectations – will push the need for inclusive and dissenting ("spirited") collaboration."
Source: Intentional Leadership: The Big 8 Capabilities Setting Leaders Apart
* * *
Look for these ideas every Thursday on the Leading Blog. Find more ideas on the LeadingThoughts index.
* * *


Like us on
Instagram
and
Facebook
for additional leadership and personal development ideas.

Posted by Michael McKinney at 08:13 AM

Permalink
| Comments (0)
| This post is about Leading Thoughts