Leading Thoughts for February 2, 2023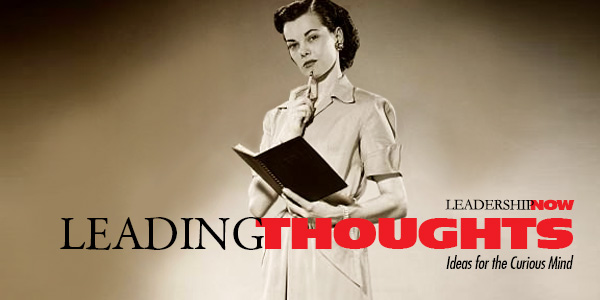 IDEAS shared have the power to expand perspectives, change thinking, and move lives. Here are two ideas for the curious mind to engage with:
I.
Robert Kaplan on learning to ask the right questions:
"Fortunately, the key to managing and leading your organization and your career does not lie in 'having all the answers.' The key lies in making a conscious effort to regularly step back to reflect, and then identify and frame the issues that are central to leading your organization effectively into the future."
Source: What to Ask the Person in the Mirror: Critical Questions for Becoming a More Effective Leader and Reaching Your Potential
II.
Jeremy Utley and Perry Klebahn on creativity:
"Regardless of exactly how you define creativity, the key thing is that we never create out of whole cloth. Instead, we connect what we have, bringing together two or more elements in a new way. Abundant ideaflow requires enormous amounts of raw material to make more of these unexpected combinations."
Source: Ideaflow: The Only Business Metric That Matters
* * *
Look for these ideas every Thursday on the Leading Blog. Find more ideas on the LeadingThoughts index.
* * *


Like us on
Instagram
and
Facebook
for additional leadership and personal development ideas.

Posted by Michael McKinney at 06:54 AM

Permalink
| Comments (0)
| This post is about Leading Thoughts