Leading Thoughts for January 19, 2023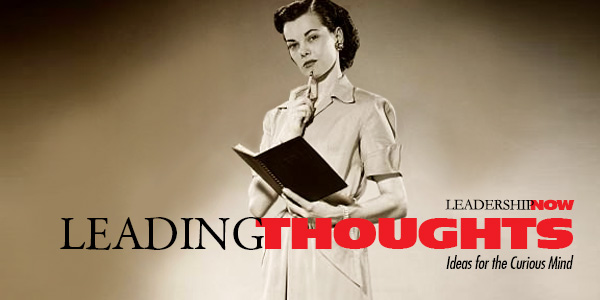 IDEAS shared have the power to expand perspectives, change thinking, and move lives. Here are two ideas for the curious mind to engage with:
I.
Susan Scott on being with someone prepared to be nowhere else:
"It's amazing how this seemingly small thing—simply paying fierce attention to another, really asking, really listening, even during a brief conversation—can evoke such a wholehearted response. A Chinese proverb says, 'When a question is posed ceremoniously, the universe responds.' When someone really asks, we really answer."
Source: Fierce Conversations: Achieving Success at Work and in Life One Conversation at a Time
II.
Ray Bradbury on the power of always taking the next step:
"Action is hope. At the end of each day, when you've done your work, you lie there and think, Well, I'll be damned, I did this today. It doesn't matter how good it is, or how bad—you did it. At the end of the week you'll have a certain amount of accumulation. At the end of a year, you look back and say, I'll be damned, it's been a good year."
Source: Interview: The Art of Fiction No. 203
* * *
Look for these ideas every Thursday on the Leading Blog. Find more ideas on the LeadingThoughts index.
* * *


Like us on
Instagram
and
Facebook
for additional leadership and personal development ideas.

Posted by Michael McKinney at 08:48 AM

Permalink
| Comments (0)
| This post is about Leading Thoughts