Key Traits of Challenger Brands that Allow Them to Punch Above Their Weight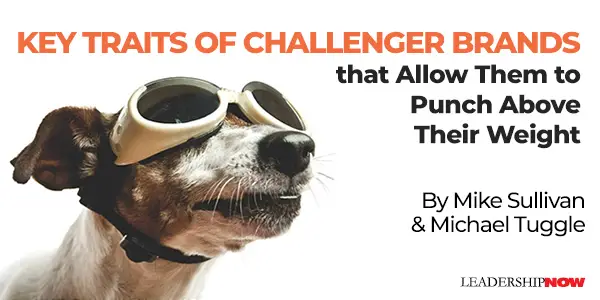 CHALLENGER BRANDS know what it means to fight their way to success. As true underdogs, it's the only option they have. Challenger brands can't spend their way to success with big ad campaigns like the category leaders. Instead, they start with a strong business strategy and an acute understanding of who they are as a brand. Then, they identify opportunities to leverage that identity for disruption.
When challenger brands take consumers and competitors by surprise, that collision carries twice the impact because it's unexpected. That punch is what gives brands what they most want from their branding, marketing, and advertising — a response. That alchemy begins with anchoring the brand in a genuine consumer insight that distinguishes the brand from everything else.
An Underdog Nightmare for the Category Leaders
True challengers don't follow convention. Underdogs don't succeed by trying to do what the category leaders do, but better. Instead, they find and expose the weakness of category norms and fill those gaps with an extraordinary solution.
Years ago, we engaged with a CEO in the mattress industry who wanted to know how he could create real brand distinction and drive more retail traffic in such a highly commoditized category. His mattress chain was struggling with traffic, and with the Great Recession right around the corner, sales had gone from slow to sluggish. He needed an idea to turn up the volume, and he needed it quickly.
In an industry where mattresses are always on sale, we knew the brand had to do something to disrupt the market. It needed to be rooted in a point of difference that customers would find important and engaging, especially given the context of a faltering economy and stingy spending on discretionary products like mattresses. The answer to our new client's dilemma lay hidden in his company's extraordinary commitment to sales process and training.
The mattress CEO was relentless about doing right by customers, and this made him very particular about who he hired and how they were trained. The company's extensive sales training far exceeded that of competitors. As a result, he delivered a superior customer experience as evidenced by the inconsequential number of returns — especially compared to the category leader, which was well known for its hard-closing conquest approach to sales. That set us up beautifully to offer the mattress industry's first (and to date, only) One Year Love Your Mattress Guarantee. While the rest of the industry was offering 30-day return policies, our client gave customers an entire year to love their mattress, and if they didn't, they could bring it back.
It was a revolutionary challenger move that turned category convention on its ear. The first month, sales spiked 30 percent, followed by months on end of year-over-year double-digit increases that climbed as high as 50 percent. Our favorite part of this challenger success story was an attempt by category killer Mattress Firm to match our client's one-year offer only to yank it back quickly after being swamped with returns.
4 Key Traits of Every Underdog
As nice as it would be, challenger brand success doesn't come with the flip of a switch. It takes a solid foundation based on four core traits every challenger brand has to have. If you're a challenger brand ready to fight and compete, here are the four key traits you need to address first:
1. A challenger strategy. Challenger brands require a marketing strategy that challenges category convention and doesn't simply mimic the moves of the leader or other successful category competitors. Leadership teams for authentic challenger brands evaluate the competitive landscape with an eye toward changing something fundamental about the way they approach the business. In doing so, they create a new and distinctive competitive advantage — a clear path for a unique marketing strategy that can only be leveraged by their brand.
2. Challenger promises. Challenger brands must also make brand promises that aren't easily duplicated by competitors. The promise must be solidly grounded in real differences created by the company's state of mind — something it does best or is earnestly striving to do best. Critically, this promise must be authentic. It can't simply be manufactured through advertising.
3. Challenger statements. Challenger brands must be willing to make clear and compelling statements about what they are and what they're not; who they are for and who they're not for. Famous challenger brands such as Red Bull, Southwest Airlines, and Motel 6 are very specific about what they have to offer and who their products or services are for. They're also not afraid to position themselves clearly away from customer groups that aren't in their crosshairs. Challenger brands aren't afraid to limit their appeal at the expense of alienating those who will merely tolerate them. They are laser focused on those who will love them — their fervently loyal core customer base.
4. A challenger voice. Challenger brands are willing to amplify their strategies, brand promises, and statements through a unique voice. Their advertising and marketing communications look and sound different from their competitors. They say different things, make different promises, and command a different kind of attention in the marketplace. The state of readiness extant in challenger brand leadership not only paves the way for unique and unconventional marketing and advertising, it compels customers to seek them out.
Challenger brands can't afford to cheat the fundamentals. But when they build a strong foundation on challenger strategy, promises, statements, and voice, they will discover insights and be able to leverage the truth. Then they must fight like Hell without relenting. That's how underdogs win.
* * *

Mike Sullivan is president and CEO of LOOMIS, the country's leading challenger brand advertising agency. For more than 30 years, he's helped some of the country's most successful companies build their brands. Michael Tuggle is an award-winning creative director and writer with more than 25 years in the ad world building brands and growing companies. Their book is The Voice of the Underdog: How Challenger Brands Create Distinction by Thinking Culture First (BizComPress, Aug. 10, 2020). Learn more at theloomisagency.com.

* * *


Follow us on
Instagram
and
Twitter
for additional leadership and personal development ideas.
* * *


Posted by Michael McKinney at 09:15 AM

Permalink
| Comments (0)
| This post is about Marketing