Leading Thoughts for January 5, 2023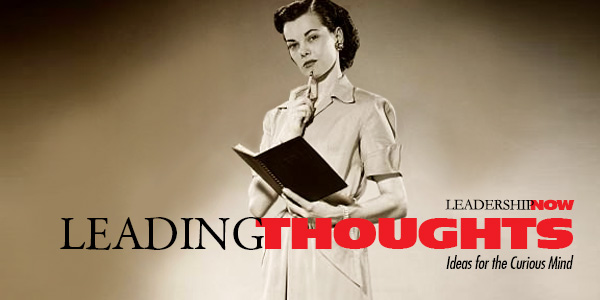 IDEAS shared have the power to expand perspectives, change thinking, and move lives. Here are two ideas for the curious mind to engage with:
I.
Ed O'Malley and Julia McBride on asking, "What's my part of this mess?":
"One person can see a problem, get more curious about it, and use their influence to make things better. But real change begins when lots of people get curious about what's really going on with a problem or challenge."
Source: When Everyone Leads: How The Toughest Challenges Get Seen And Solved
II.
Journalist and essayist Pico Iyer on uncertainty:
"We're always living in a state of uncertainty — two years ago, two years from now — and that therefore, part of our challenge as I see it is to make uncertainty our church in New Jersey — to make it our home. This is where we're living, every day of our lives. And so, as you said, let's rejoice in it, furnish it, close the door, rearrange the books, and say, Make this as beautiful as it can, given that forest fire, earthquake, or who knows what will be coming tomorrow — or tremendous beauty and love may be coming in the door tomorrow."
Source: Pico Iyer interviews with Elizabeth Gilbert, The Future of Hope Series
* * *
Look for these ideas every Thursday on the Leading Blog. Find more ideas on the LeadingThoughts index.
* * *


Like us on
Instagram
and
Facebook
for additional leadership and personal development ideas.

Posted by Michael McKinney at 08:34 AM

Permalink
| Comments (0)
| This post is about Leading Thoughts