Managing a small island is a big job, as Shelton J. Haynes knows. The Roosevelt Island Operating Corporation's president and chief executive officer manages the day-to-day functions of Roosevelt Island, New York, a sliver of green in Manhattan's East River, 2 miles long and home to around 12,000 residents. 
The state-run RIOC functions like a local government, and Haynes and his team deliver essential services. At the height of the pandemic and when it lacked one, Haynes introduced a rapid COVID-19 testing site to the island, saying, "Our mission has been and continues to be providing innovative services that enhance the island's community." 
Gone are the days when Roosevelt Island was home to an "insane asylum," a prison, a workhouse, and a smallpox hospital. Now, it's a best-kept secret in the hardscrabble world of New York City real estate. For islanders, it's a sanctuary graced by open fields, tree-lined streets, parks, and playgrounds where they enjoy quiet, peace, lack of crowds, and a small-town vibe with views of the United Nations Headquarters buildings, One World Trade Center, and other landmarks as the red Roosevelt Island Trams soar overhead. Haynes and his team's achievements for Roosevelt Island include growing the RIOC's capital program from $4.5 million to more than $19.6 million annually. His team allocated funds to projects including the renovation of the Blackwell House, a $2.9 million renovation and restoration project of a landmark home built in 1796, that included the restoration of interior featuring historically accurate decor from the 18th century and includes images of other landmarked structures and buildings on the island that are no longer standing. Additionally, the  Seawall Railing Replacement undertaking, a $9.2 million project consisting of the installation of 1,658 new railings and 829 new posts spanning almost the entire shoreline of Roosevelt Island and measuring approximately 3.7 miles in length.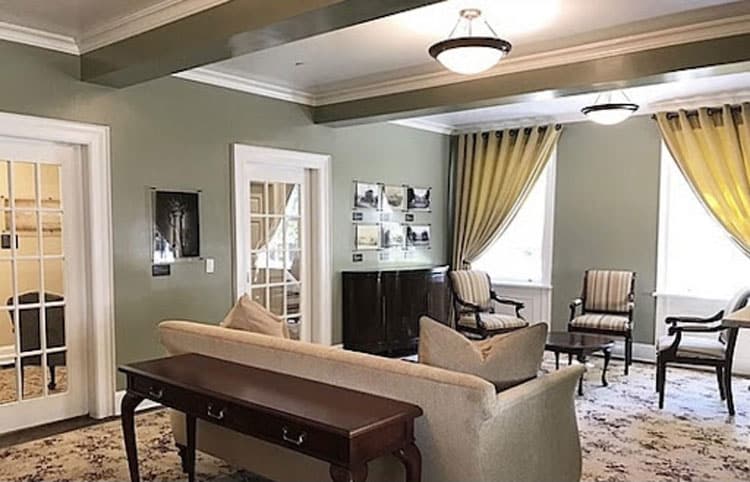 The Automated Vacuum Collection System whisks garbage from Roosevelt Island's residential buildings at 55 miles per hour through underground tunnels to the AVAC building, where it is compacted, containerized, and trucked off the island. A project to modernize the AVAC was completed in late 2020. These upgrades, at a cost of approximately $2 million, required piping, replaced outdated controls, piping, and exhaust systems, and installed new laser sensors that automated steps in the collection process. These upgrades have greatly reduced the annual energy consumption at the facility. 
Another successful project was the Roosevelt Island Youth Center, a $2.1 million renovation to serve as a megaplex of youth development, engagement, and academic stewardship as well as a safe space where youth have the opportunity to engage in a variety of enrichment, recreational, and educational programming. The RIYC promotes personal development, social discovery, and team building. Additionally, the Motorgate Garage and Charging Station was a $20 million project of major improvements to better help the busy travelers of the island with the installation of ChargePoint electric vehicle charging stations on the fourth floor, and infrastructure renovations — with weatherproofing and restriping among the improvements — to promote the island's parking, accessibility, and safety needs.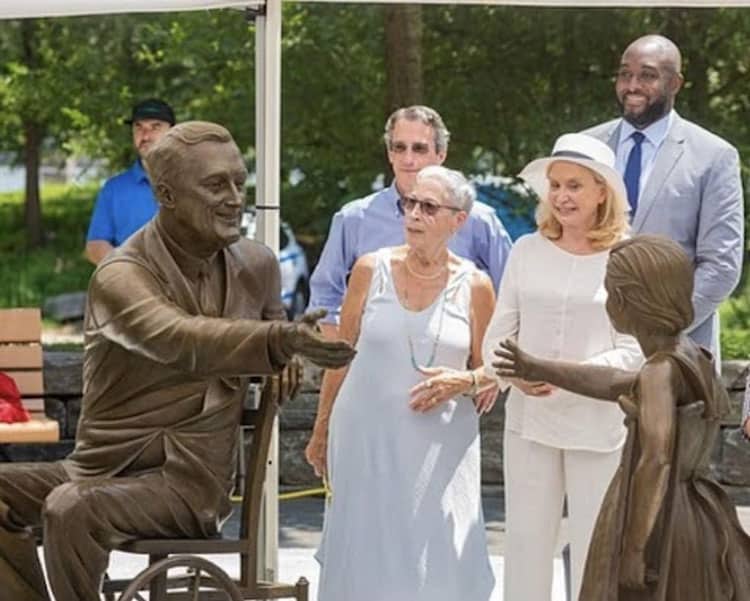 In the summer of 2021, Haynes and his team dedicated the FDR Hope Memorial near the island's southern tip. It commemorates the island's namesake, Franklin D. Roosevelt, the 32nd president of the United States and a disability advocate; they produced it with help from the Roosevelt Island Disabled Association. The Blackwell Park Improvement Project in August 2021 was an approximate $1 million renovation that helped to shape a safer, more accessible, and welcoming outdoor community space by replacing unsafe and uneven pavers, updating Americans with Disabilities Act compliance conditions, updating the playground area, and installing an irrigation system in the garden area. 
Completed in early 2022 at a cost of about $7 million, the Tram Elevator Project is a new elevator with an all-glass facade that improves the appearance and functionality of the station with two ADA-compliant cabins. The station's two, eight-passenger ADA-compliant elevator cabs replace a single, four-passenger non-ADA compliant elevator, an upgrade that's incredibly important to a number of Roosevelt Island's diverse resident groups including seniors, those who are disabled, and families. Additionally, the elevators' all-glass design reduces energy consumption while improving passenger visibility of the surrounding area. As a holistic and complementary component, the surrounding station plaza has been outfitted with an abundance of lighting and improved paving for safer travels. The facade replaces the old, out-of-date elevator and also provides an aesthetically pleasing change from the Manhattan landscape and infrastructure of 62nd Street and 2nd Avenue. 
The Octagon Comfort station (aka McManus Welcome Station) is a $5.4 million renovated comfort station and surrounding space that includes a 2,000-square-foot green roof covered in a mix of sedum plants, completely ADA-compliant accessible restrooms and surrounding exterior sites, an expanded communal area with added picnic tables and natural seating created from existing stones, and recycled wood cladding that sustainably and visually relates to the surrounding recreational green space.
Designed by 19th-century architect James Renwick, the Lighthouse Park Tower Project has been a prominent historic feature of Roosevelt Island since its construction in 1872. The lighthouse was partially restored in the 1940s, complete with a low-pitch, 10-sided lantern, and was inducted into the National Register of Historic Places and designated a New York City Landmark in 1972 and 1976, respectively. The approximate $2.6 million in renovations to the structure began in the spring of 2019 to repair severe damage that occurred during Hurricane Irene and Superstorm Sandy. The exterior and interior restoration of the tower included masonry restoration, concrete bracket and platform repair, railing restoration, replacement of the spiral staircase, and door and window restoration, as well as electrical and site work. These repairs remediated the many life and safety issues addressed for long-term use and will additionally decrease the operation and maintenance costs associated with the tower. "It is truly an honor to have rehabilitated this historic landmark for the Roosevelt Island community and visitors alike to enjoy. The Lighthouse Tower is a cornerstone and simply one of Roosevelt Island's treasures. I would like to thank our RIOC team, the architect and contractor for their work on this project.", said Shelton J. Haynes.
In December 2021, RIOC unveiled The Girl Puzzle, Kentucky sculptor Amanda Matthews' five massive, arresting bronze sculptures designed to commemorate women who met adversity with resilience, centered around fearless, muckraking journalist Nellie Bly. We're so proud to house this important and awe-inspiring monument that all New Yorkers can take pride in," said President and CEO of Roosevelt Island Operating Corporation Shelton J. Haynes. 
Southpoint Park Shoreline Restoration Project was an $11 million project that expanded and improved the waterfront promenades within Roosevelt Island's Southpoint Park and expanded the island's lookout points with pathways and native vegetation and strengthened the shoreline against future storm damage.  "Superstorm Sandy showed us how real and devastating climate change can be," said Shelton J. Haynes, President and CEO of Roosevelt Island Operating Corporation. "The mitigation efforts we took to protect and reinforce Southpoint Park's shoreline were necessary and forward-thinking. The bonus is, we have created a holistic waterfront oasis at the same time – something we are very proud of and looking forward to our residents and visitors enjoying."  The design phase of this health and safety project of the Steam Tunnel Repairs are currently underway and slated to be completed by early 2023. RIOC took on this repair project due to health and public safety concerns and is collaborating with other entities as this work continues.  
RIOC's achievements have created momentum. In 2021, the Graduate Roosevelt Island, with its modern design and Panorama Room rooftop bar, became the first hotel on the island. This fall, workers broke ground on an affordable housing complex, Riverwalk Building #9; a permanent dog run is scheduled to be installed on its grounds in the autumn of 2024. Meanwhile, RIOC is creating a temporary dog run in Firefighters Field, a recreational space. 
"With economic development booming, this construction is proof that people want to come to Roosevelt Island, to live, work, and invest in our community," Haynes said. 
Closing on Riverwalk Building 9 – RIOC assisted an island developer close on a major economic development deal set to invest $185 million in the construction of a mixed-use building featuring workforce housing, rental units, and office space.  "After years of negotiation, the timely closing of the Riverwalk Building 9 development is indicative of the hard work of all parties involved at RIOC and our partners at Related Companies and Hudson. I cannot wait to get shovels in the ground to unveil our latest investment that will continue the tremendous economic boom we are experiencing. Once completed, Riverwalk 9 will spur further job growth, create new housing, and contribute nicely to the beauty of Roosevelt Island," said Roosevelt Island Operating Corporation President and CEO Shelton J. Haynes.
 How Shelton Haynes Is Strategizing with the RIOC Team 
Shelton Haynes earned a Bachelor of Arts degree in sociology from the esteemed Hampton University, a private, historically Black research university in Virginia. Respected publications, including U.S. News & World Report, The Princeton Review, and Money magazine, have all named Hampton University one of the top schools in the country.
After graduation, Shelton Haynes began his career with the NYC Department of Housing Preservation & Development, where he oversaw the program's intake process.  After spending many years gaining extensive experience in housing through his many positions in state and local governments Shelton Haynes was promoted to Chief Operating Officer at the Housing Authority of DeKalb County in Georgia, where he served in that role for four years. He shepherded agency operations, strategic and operational initiatives, and the executive management team. His leadership strengths helped him transform underperforming departments into high-performing ones based on measurable key performance indicators and compliance audits. 
In 2016, Haynes moved from the Peach State to the Big Apple to assume the chief operating officer role at RIOC. When he became interim president and CEO of RIOC in June 2020, he promised his team a renewed emphasis on transparency to build trust within the community and the organization. During his transition, he wrote about team goals in a letter to his employees. 
"Our culture will reflect that as we will be strategic in our approach, modify our business model with a greater emphasis on efficiency, and work together on ways to improve our organization." 
He also wrote, "Saying we're going to do something is not good enough. Talking about doing something or changing something is not good enough, either. We have to actually do it and hold ourselves accountable to the realistic deadlines we have set."
Seeing Is Believing  
Shelton Haynes, understanding that seeing is believing, improved the island's natural beauty by fostering the development of public art. During the ribbon-cutting ceremony for the FDR Hope Memorial, he said, "We're proud to be able to add this experiential work to our robust offering of progressive art, and it's an honor to unveil such a significant and symbolic statue here on Roosevelt Island. We are reminded every day, by our island's name, that we have a legacy to uphold by continuing to represent how inclusion and diversity can prosper in New York."
When RIOC debuted The Girl Puzzle, the sculptures honoring Nellie Bly, Haynes pushed more public works of art to the forefront — specifically to the northern tip of the island, in Lighthouse Park. Bly, born Elizabeth Cochran Seaman, is one of the island's most influential figures. The trailblazing investigative journalist wrote her 1887 book, Ten Days in a Madhouse, to reveal the abuses she witnessed while reporting undercover as a mentally ill patient at the island's Women's Lunatic Asylum. 
"We are proud to be leading the charge in support of statues featuring women, having commissioned such an important work of art representing women and equality," Haynes said at the ribbon-cutting ceremony. "This, coupled with our landmarked Blackwell House and iconic Tramway, makes Roosevelt Island an exceptional destination where history, education, and current events intertwine. We're so proud to house this important and awe-inspiring monument that all New Yorkers can take pride in." 
What's Next for Shelton Haynes and Roosevelt Island? 
With an eye on the future, mindful of climate challenges, and with the support of New York Gov. Kathy Hochul, Shelton Haynes is rolling full steam ahead with this hidden gem, as evidenced by the renovations to Southpoint Park, which was ravaged by 2012's Superstorm Sandy. 
"Superstorm Sandy showed us how real and devastating climate change can be," said Haynes.  
"The mitigation efforts we took to protect and reinforce Southpoint Park's shoreline were necessary and forward-thinking. The bonus is we have created a holistic waterfront oasis at the same time — something we are very proud of and looking forward to our residents and visitors enjoying." 
Gov. Hochul weighed in on Haynes and RIOC's efforts, saying, "The reality is that we're seeing more cases of extreme weather caused by climate change wreaking havoc on our communities, and we need to build up resiliency to this threat. 
"Not only will Southpoint Park's new promenades offer amazing views and access to Roosevelt Island's rich history, but the improvements made to the shoreline will help ensure the island is protected from the impacts of extreme weather for years to come." 
And that's just a drop in the proverbial bucket for the progressive plans Haynes and RIOC have for their beloved neighborhood. 
"We have accomplished a great deal together over the past few years," said Haynes, "and I am confident that our best days are yet to come." 
According to Haynes, there are several exciting projects on RIOC's horizon. The Roosevelt Island Sportspark Renovation Project – an approximate $12 million project that began in April 2021 and scheduled to open in early 2023, is a center of health, wellness, and fitness, the renovations include the installation of energy-efficient systems, the addition of a fitness center, a multi-purpose meeting and event space, as well as upgrades to the gymnasium, locker rooms, pool amenities, and building façade. Blackwell Park revitalization is a $4 million project that will upgrade all playground equipment, provide a comfort station with ADA bathrooms, improve landscaping and basketball courts and provide a fitness area. As the island continues to develop, volumes of traffic increase and modality options expand as technology advances. Consumer purchasing behaviors have also contributed to an increase to on demand delivery services resulting in a higher demand of loading and unloading areas, vehicular parking, and conflicts with spaces for maintenance activities and emergency response. Different types of traffic and regulatory signage is posted along the two-mile long Main Street, creating a complexity that confuses pedestrian and vehicle operators. The Roadway and Paved Surfaces Rehabilitation project will encompass an island wide traffic study to improve signage, repave all of the streets on the island and ultimately create a seamless transportation network for Roosevelt Island.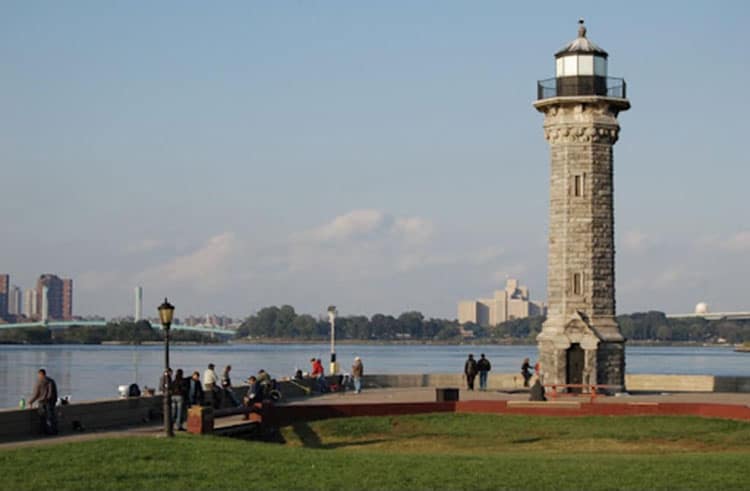 Lighthouse Park Reconstruction/Expansion is a $10 million transformative capital improvement, that will expand the useable area of the park by repurposing the parking lots into active park space that better serves the community; bike lane project will enable RIOC to create a bike lane on East promenade of Roosevelt Island to facilitate safer biking and improving quality of life for the community. RIOC is the recipient of a $5M FHWA TAP transportation grant which will be used towards this $7 million project. 
Most importantly, Haynes is driven by public work and initiatives that have a direct impact on the Roosevelt Island community. He wants to put even greater emphasis on community policing though the island is one of the safest neighborhoods in New York City, he would love his Public Safety department to be the model of this mantra. His pride and joy is the Roosevelt Island Youth Center which is slated to receive a School Age Child Care (SACC) license which will permit RIOC to expand its services and seek additional funding for their programming. In 2022, Haynes and team streamlined a community focused grant funding process. The Roosevelt Island Public Purpose Fund (the Fund) has announced $150,000 in grants to 13 nonprofits working to benefit Roosevelt Island residents and enhance their quality of life. RIOC asked The New York Community Trust (The Trust) to administer its public purpose grants and created the Roosevelt Island Public Purpose Fund in The Trust.
"We are proud to assist these dedicated nonprofits in their service to the Island," said RIOC President and CEO Shelton Haynes. "The New York Community Trust's expertise improved the grantmaking process this year and will help the grantees strengthen their operations for the future."
The grants support a range of projects aiming to make life on Roosevelt Island more enjoyable and equitable: from enrichment classes for older adults and improving services for people with disabilities to supporting the island's visitor center and putting on orchestral concerts. 
The Fund previously provided a grant of $50,000 to Community Resource Exchange, one of the city's most distinguished nonprofit consultant agencies, to provide a series of free nonprofit management workshops to grantees and other Roosevelt Island nonprofits. The workshops for nonprofit volunteers and leaders will share information about best practices in nonprofit management, governance, and fundraising.
The Trust aimed to simplify the application and reporting processes for nonprofits, while ensuring grants support important programs and services for Roosevelt Island residents–including educational opportunity, cultural enrichment, improved health, and a better environment.  
The grant application process began in February, and closed on March 14. 
The Trust convened an independent, five-person advisory committee made up of members of the Roosevelt Island community to review applications and make grant recommendations. The committee members live or work on the island; have nonprofit and/or public service experience; and reflect race, age, and gender diversity. Members were anonymous during the review period to keep the process fair and confidential.
---
Have you read it?
The world's top 20 most travel-obsessed countries, 2023.
The most Twitter-obsessed countries revealed, 2023.
The world's top 10 most popular luxury brands for 2023.
The most fast food-obsessed countries in the world, 2023.
Who Are the Richest Sports Owners in the World, 2023?
Track Latest News Live on CEOWORLD magazine and get news updates from the United States and around the world.
The views expressed are those of the author and are not necessarily those of the CEOWORLD magazine.

Follow CEOWORLD magazine headlines on: Google News, LinkedIn, Twitter, and Facebook.
Thank you for supporting our journalism. Subscribe here.
For media queries, please contact: info@ceoworld.biz