Leading Thoughts for December 8, 2022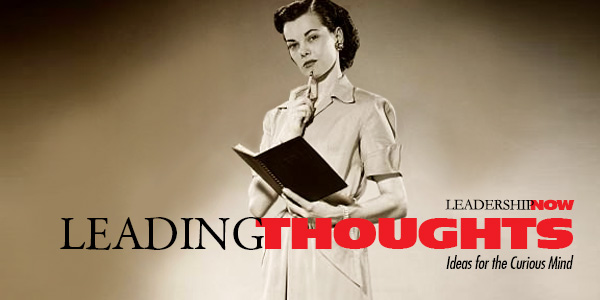 IDEAS shared have the power to expand perspectives, change thinking, and move lives. Here are two ideas for the curious mind to engage with:
I.
Jim Wallis on moving forward after a crisis:
"Not all of our old habits, behaviors, and institutions are bad, just as not all new ones are good. We need to uncover some forgotten lessons that have served us well in the past and make sure the baby of our better choices doesn't get thrown out with the bathwater of our mistakes."
Source: Rediscovering Values: On Wall Street, Main Street, and Your Street by Jim Wallis
II.
Alan Stein Jr. on character:
"Character means you understand that there are more things beyond winning and losing. The workplace and the business world are not all zero-sum games. There can be more than one winner, and a workplace of battling egos inevitably suffers in productivity."
Source: Raise Your Game: High-Performance Secrets from the Best of the Best
* * *
Look for these ideas every Thursday on the Leading Blog. Find more ideas on the LeadingThoughts index.
* * *


Like us on
Instagram
and
Facebook
for additional leadership and personal development ideas.

Posted by Michael McKinney at 10:26 AM

Permalink
| Comments (0)
| This post is about Leading Thoughts