Leading Thoughts for December 1, 2022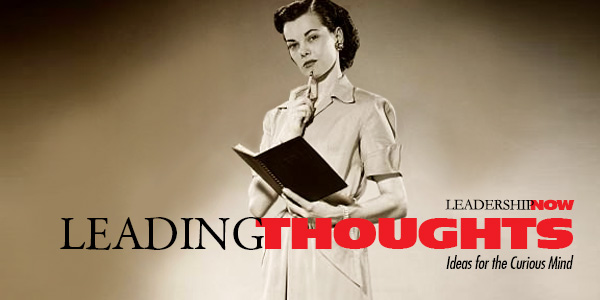 IDEAS shared have the power to expand perspectives, change thinking, and move lives. Here are two ideas for the curious mind to engage with:
I.
Designer Mauro Porcini on getting the question right:
"The quality of the question is fundamental: far too often, people generate a whole set of correct answers for a whole set of wrong questions. And too often, people forget to question the validity of their questions, finding comfort instead in the correctness of their answers."
Source: The Human Side of Innovation: The Power of People in Love with People
II.
Crisis management consultant James Lukaszewski on integrity:
"Each scenario begins with and is made worse by breakdowns in integrity. Before somebody breaks the rules, before somebody breaks the law, before some executive gets into deep difficulty and becomes highly visible, there is a systemic fracture, sometimes even collapse, of integrity. I define integrity as the inherent tendency in individuals and organizations to do the right thing at every opportunity when confronted with choices, options, or dilemmas."
Source: Speech, Avoiding Integrity, March 2, 2007
* * *
Look for these ideas every Thursday on the Leading Blog. Find more ideas on the LeadingThoughts index.
* * *


Like us on
Instagram
and
Facebook
for additional leadership and personal development ideas.

Posted by Michael McKinney at 07:53 AM

Permalink
| Comments (0)
| This post is about Leading Thoughts