Leading Thoughts for October 27, 2022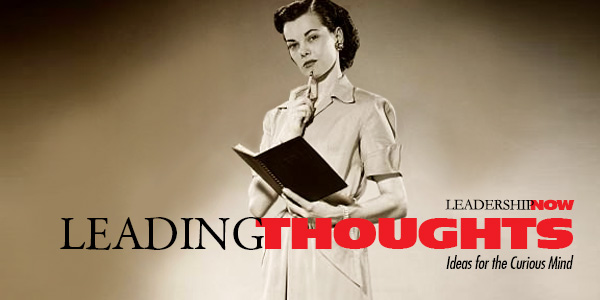 IDEAS shared have the power to expand perspectives, change thinking, and move lives. Here are two ideas for the curious mind to engage with:
I.
Conductor Benjamin Zander and family therapist Rosamund Zander on the power of perspective:
"Every problem, every dilemma, every dead end we find ourselves facing in life, only appears unsolvable inside a particular frame or point of view. Enlarge the box, or create another frame around the data, and problems vanish, while new opportunities appear."
Source: The Art of Possibility : Transforming Professional and Personal Life
II.
Founder of Catalyst for Peace, Libby Hoffman on listening with:
"Not a passive or one-way listening, that way of asking for and receiving someone else's one-directional offering. There is a special kind of listening that can only happen over time, and I have come to think of it as one of the great untapped social change resources available to us, if we cultivate the commitment and the sensibilities to utilize it. It is both a listening to and a listening with another. Listening with implies a common standpoint and/or a common vision or purpose calling you forward. With ongoing presence and engagement, this kind of listening can be generative and creative—co-creative."
Source: Answers Are There: Building Peace from the Inside Out
* * *
Look for these ideas every Thursday on the Leading Blog. Find more ideas on the LeadingThoughts index.
* * *


Like us on
Instagram
and
Facebook
for additional leadership and personal development ideas.

Posted by Michael McKinney at 07:09 AM

Permalink
| Comments (0)
| This post is about Leading Thoughts