Leading Thoughts for November 3, 2022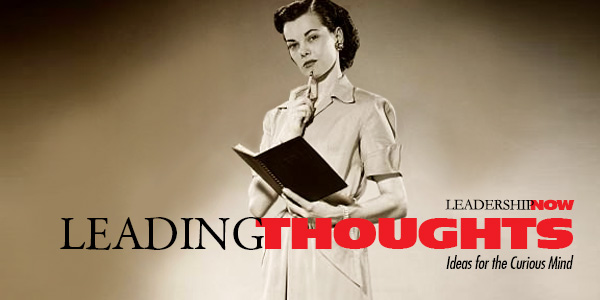 IDEAS shared have the power to expand perspectives, change thinking, and move lives. Here are two ideas for the curious mind to engage with:
I.
Political commentator Walter Lippmann claims that when the press exists primarily for its own purposes and agenda, it threatens democracy whenever it has an agenda other than the free flow of ideas:
"We shall advance when we have learned humility; when we have learned to seek the truth, to reveal it and publish it; when we care more for that than for the privilege of arguing about ideas in a fog of uncertainty." "
Source: Liberty and the News
II.
Sociologist and educator David Stanley Eitzen on avoiding trends that deprive us of humanity:
"Modern technology often encourages isolation. Because of computers and telecommunications, there is a growing trend for workers to work from home. At last count, 28 million Americans worked out of their homes, using computers or telephony instead of face-to-face interaction. While home-based work allows flexibility and independence not found in most jobs, these workers are separated from the rich social networks that often give rise to numerous friendships and make working life enjoyable or at least tolerable."
Source: Speech, "Avoiding Trends That Deprive Us of Humanity," October 16, 2003
* * *
Look for these ideas every Thursday on the Leading Blog. Find more ideas on the LeadingThoughts index.
* * *


Like us on
Instagram
and
Facebook
for additional leadership and personal development ideas.

Posted by Michael McKinney at 07:09 AM

Permalink
| Comments (0)
| This post is about Leading Thoughts