Leading Thoughts for November 10, 2022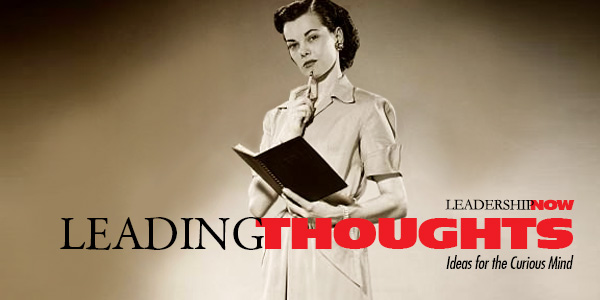 IDEAS shared have the power to expand perspectives, change thinking, and move lives. Here are two ideas for the curious mind to engage with:
I.
David Abshire on trust:
"Trust, in its fullest sense, extends beyond simply having great confidence in a person, of faith that a task will be performed. Trust manifests itself when one becomes committed to the protection and care of someone else—he is entrusted to that person who holds his faith in trust."
Source: Speech, "Trust and General Hal Moore," June 11, 2006
II.
Peter Drucker on the responsibility dictated by choice:
"In a few hundred years, when the history of our time will be written from a long-term perspective, it is likely that the most important event historians will see is not technology, not the Internet, not e-commerce. It is an unprecedented change in the human condition. For the first time—literally—substantial and rapidly growing numbers of people have choices. For the first time, they will have to manage themselves. And society is totally unprepared for it."
Source: Leader to Leader, Spring 2000, "Managing Knowledge Means Managing Oneself"
* * *
Look for these ideas every Thursday on the Leading Blog. Find more ideas on the LeadingThoughts index.
* * *


Like us on
Instagram
and
Facebook
for additional leadership and personal development ideas.

Posted by Michael McKinney at 06:57 AM

Permalink
| Comments (0)
| This post is about Leading Thoughts