How MIT's Unique Culture Created a Thriving Entrepreneurial Community … and You Can Too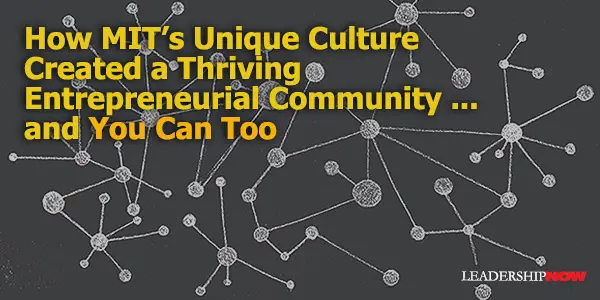 AS OF 2015, Massachusetts Institute of Technology (MIT) alums have founded over 30,000 active companies that employed 4.6 million people. And together, they had revenues of 1.9 trillion dollars. In From the Basement to the Dome, Jean-Jacques Degroof explains why MIT has become such an entrepreneurial hotbed and what we might learn from it to improve our efforts.
Recreating the MIT entrepreneurial ecosystem is not easy. It is a culture that has developed over many years and not from deliberate policy by the Institute. "Entrepreneurship at MIT sparked and began to thrive as the result of the isolated initiatives of alumni, students, and individual faculty and staff members, primarily in the realm of extracurricular activities, especially in the early days."
We may not be able to recreate the secret sauce, but there are lessons and principles that we can take away and apply to our institutions and organizations.
First, let's look at some of the history of the MIT entrepreneurial movement.
Karl Compton was president of MIT in the 30s and realized that the "launch of new venture commercializing emerging technologies requires those companies to have access to their own source of capital. Thus, the intuition behind venture capital was born."
And so on "June 6, 1946, the American Research and Development Corporation (ARD) was incorporated. It was the first institutional venture capital firm. Over the years, ARD invested in 120 companies and also spun off other venture capital firms, effectively launching the venture capital industry and the venture capital-backed firm. ARD's most successful investment was the computer firm Digital Equipment Corporation."
MIT professor Leo Beranek—of Bolt Beranek and Newman fame—said that "One of the reasons that MIT has been so important in the world has been that they were willing to encourage their professors to start businesses. . . . And of course, MIT had the proper kind of teaching so that the students got to realize that maybe one of the best things they can do is to invent something and start a company."
In 1961 MIT offered its first-ever entrepreneurship course: New Enterprises. It would remain the only graduate course in entrepreneurship until Corporate Entrepreneurship was launched in 1972. "This was a sign of limited interest on the part of the students and of the low status of entrepreneurship in academic circles."
The approach has been practical. "The strong commitment to learning by doing and to solving real problems has endured to this day and has constituted a fertile ground for the faculty, students, and alumni to develop an interest in entrepreneurship in recent decades."
In 1988 the MIT Entrepreneurs Club was launched to encourage entrepreneurship and foster critical networking. It was formed because "at MIT back in the 1980s, there were lots of people with interesting ideas, but few opportunities for people to meet to discuss them or to learn how to turn the ideas into companies, and there was little interaction between the people developing technologies in the School of Engineering and those with expertise in business at the Sloan School. The club was conceived as a way to meet that need and to bridge silos that existed between the management and the engineering side of the campus." It was also open to alumni.
Former alumni had said that "entrepreneurship is a form of intellectual immigration, consisting of leaving one's comfort zone and going somewhere where you cannot take anything for granted." And "Entrepreneurs create an organization that didn't exist before. They have a scarce amount of resources with which to do that. They are the underdog. Entrepreneurs, by definition, try to challenge incumbents."
As entrepreneurship requires thinking outside the box, it requires thinking across disciplines and domains. "One of the few reliable rules drawn from research in entrepreneurship is that diverse teams of start-up founders perform better on a range of outcomes. A general prerequisite of most MIT entrepreneurial contests or accelerators, for instance, is that participants form mixed teams of scientists and engineers with management students."
These projects often result from fortuitous encounters and informal relationships built across these porous spaces.

Entrepreneurial projects often bubble up in places where students and other members of the community socialize.
Working on side projects is a good way to find cofounders. "When you build stuff for fun, it gives you the highest likelihood of meeting similarity-minded people. And when you've already worked with people before on past projects, there's much less risk and a higher chance of success later on."
The Martin Trust Center for MIT Entrepreneurship "sees its mission, first and foremost, as educational. In addition to teaching students how to launch businesses, its objective is to teach students how to develop an entrepreneurial mindset. Thus, it focuses on instilling an entrepreneurial skillset and mindset within students, as opposed to churning out start-ups."
The Trust Center's motto: "We don't build start-ups. We build entrepreneurs."
Entrepreneurial thinking can be taught. "MIT clearly stands on the side of those who believe entrepreneurship can—and should!—be taught as a key engine to feed innovation."
There is a strong belief at MIT that entrepreneurship is a team sport. It is based on the evidence that teams of founders tend to perform better than individual founders and that complementary teams tend to do better than homogeneous teams. Following on the heels of the I-Teams class, nowadays, most teams in entrepreneurship-related courses or contests are required to be composed of a mix of engineering or science students with management students.
What can we learn from this?
As we have seen, openness to bottom-up initiatives and decision-making is a well-ingrained, bottom-up organizational dynamic at MIT.
Learning by doing and problem-solving—taking what we have learned out into the real world to test for relevance and to iterate on our ideas. Entrepreneurship is not a science but a profession and a way of looking at the world.
Experimenting and tolerance to failure. Entrepreneurship fits perfectly into such an approach because it is also a process of experimentation and trial and error.
MIT's tradition of a multidisciplinary approach to problem-solving goes a long way to enabling novel solutions based on a unique combination of disciplines. Too often, we see entrepreneurial programs operating independently of engineering and the sciences.
MIT's motto, mens et manus ("mind and hand" in Latin), and its logo — which features the scholar and the craftsman in parallel positions — are about using what we learn to make a positive impact on the world.
Embracing those who think differently from you. The identity of being an outsider is alive and well at MIT. There is pride in and respect for the rebels, the disruptors, the upstarts, and those pursuing unconventional solutions.
* * *


Follow us on
Instagram
and
Twitter
for additional leadership and personal development ideas.
* * *


Posted by Michael McKinney at 07:46 AM

Permalink
| Comments (0)
| This post is about Creativity & Innovation
, Entrepreneurship