Leadership Lessons from Coach Nick Saban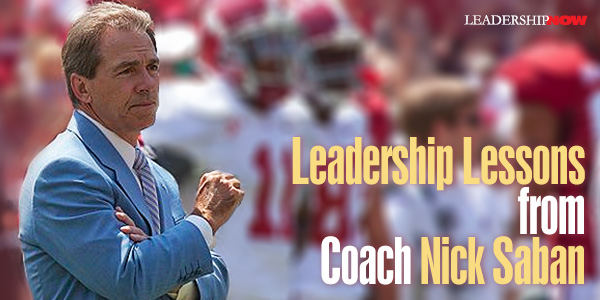 ON August 25, Chris Low posted an ESPN interview with 70-year-old Nick Saban, who just signed a new $93.6 million contract extension that runs through the 2030 season.
Here are a few of the highlights that provide us with some leadership lessons:
Think like a freshman. "You have to be flexible. I think that's one of the most important things about competitive sports … If you don't sort of study the game and know the impact of these things and use them to your advantage, you're going to just completely get bypassed by a lot of folks."
Success is a choice. Take responsibility for your choices. "I heard it said that none of us are born winners, and none of us are born losers. We're all born choosers. So choosing the right things that are going to help you be successful … that doesn't really change."
Focus on what you can become. "The one thing, because of the brand that we have here, that players can see, is they can earn a tremendous amount of money because of the brand and because of the image that they can create using that brand to promote themselves, which has happened. The players that we're recruiting are not coming here because of the money we're giving them to come here. They're coming here because of what they can earn being here because of the history that we have of guys creating value for themselves."
Hold yourself to a high standard. "I wouldn't want to coach someplace that didn't have a high standard."
Good leadership means continual growth. "I think I've become a better teacher. I think yelling and screaming at players in this day and age really goes in one ear and out the other. If you want them to really resonate on what you're saying, you just need to teach it, and sometimes, it works better if you do it individually than if you do it in front of other people. That's not something I considered in years past, several years past."
Build a good team. "We don't have a lot of what I call energy vampires, guys that take all your time because they're not doing what they're supposed to do. We have a team that has bought in, and they're all trying to do the right thing."
* * *


Follow us on
Instagram
and
Twitter
for additional leadership and personal development ideas.

Posted by Michael McKinney at 09:31 AM

Permalink
| Comments (0)
| This post is about Leadership